Solarify Data Logger is Online!
Our device, which can read many inverters, sensors and quality analyzers that are common in the market, can perform sampling and reporting in accordance with the standard of IEC 61724-1: 2017 , passed the test stages and started to land!
With Solarify Data Logger, our installation costs have decreased considerably.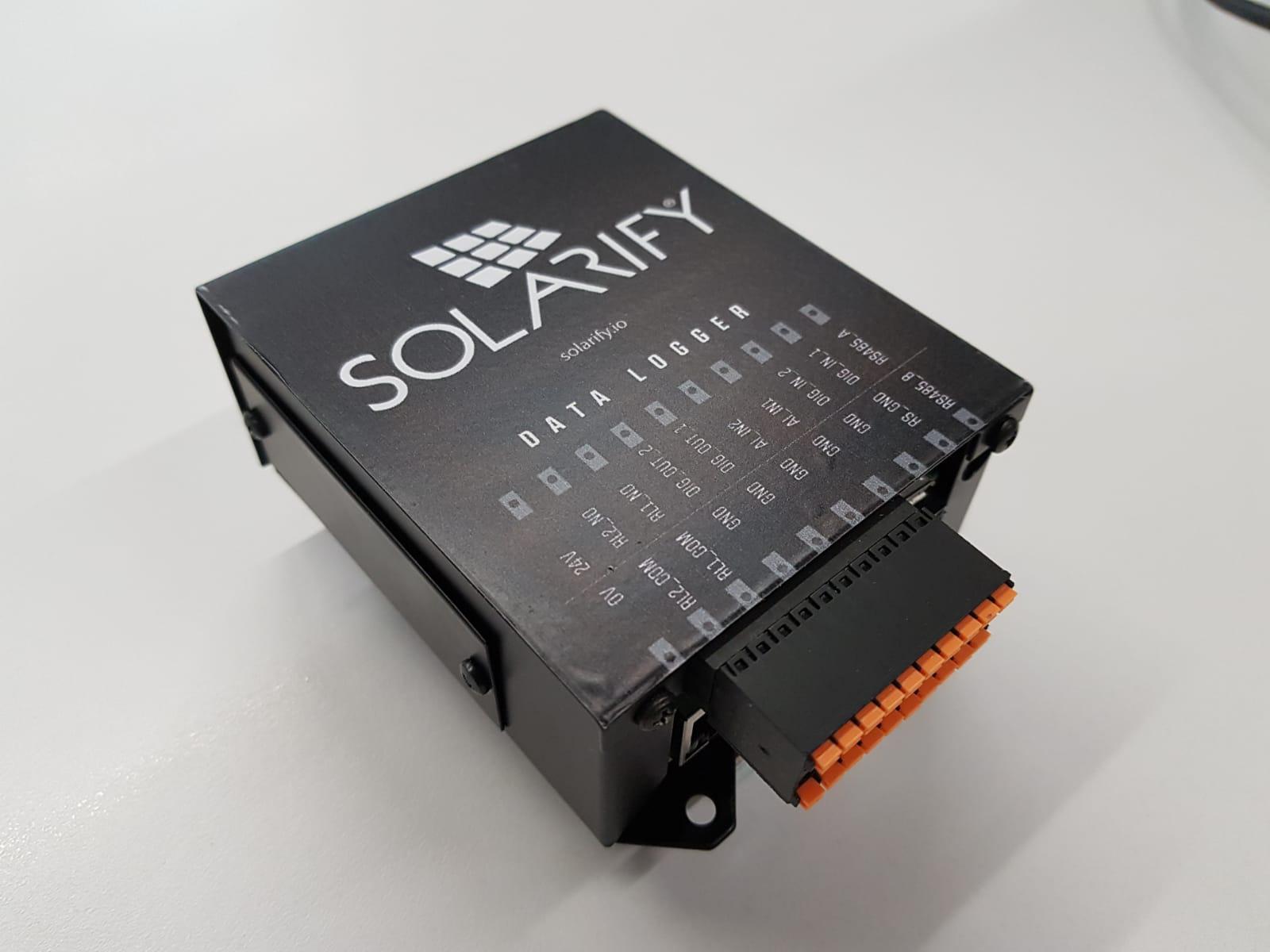 Updates
NEW FEATURES
Analysis page that you define and save can be shown on the pages screen. In this way, you can easily follow your personal graphics on big screens.
You can add the terms to your personal alarm page, you can generate alarms according to your own conditions.
On the data recorder page, we've added the ability to list the missing data. In this way, which day and time you can easily follow the data.
The night screen feature has been added to the Pages screen. In this way, you will be able to study on big screens with less energy.
IMPROVEMENTS
We have added multiple selection and application features when making scale settings in the Devices menu. This will enable you to make configuration changes very quickly in new plant installations or device structure changes.
We have added the ability to control data logger alarms at certain times, so you will not receive alarms from your data loggers that do not work at night.
We've added the clear idle alerts feature to standard alarms, which will automatically turn off when alarms from data sending devices are not turned off within the set time.
You can now configure the alarm settings collectively.
In case of 100+ device comparisons, alarm menus were slowing down, performance problems were solved and made faster.
In the term calculation screen, the retrospective term calculation performance problem is solved. You will now be able to have back-calculated data accumulated over the years in seconds.
BUG FIXES
There was a problem in the instantaneous energy display in the mobile application due to changes in the term calculations, it is now fixed.
First Step to Operation and Maintenance!
In our main update, the alarm history page, which we filter and list existing and past alarms by alarm status, type and level and date, has been passed to the test stage and published. With this development, the first step has been taken for our "Operation and Maintenance" section which will have many new features.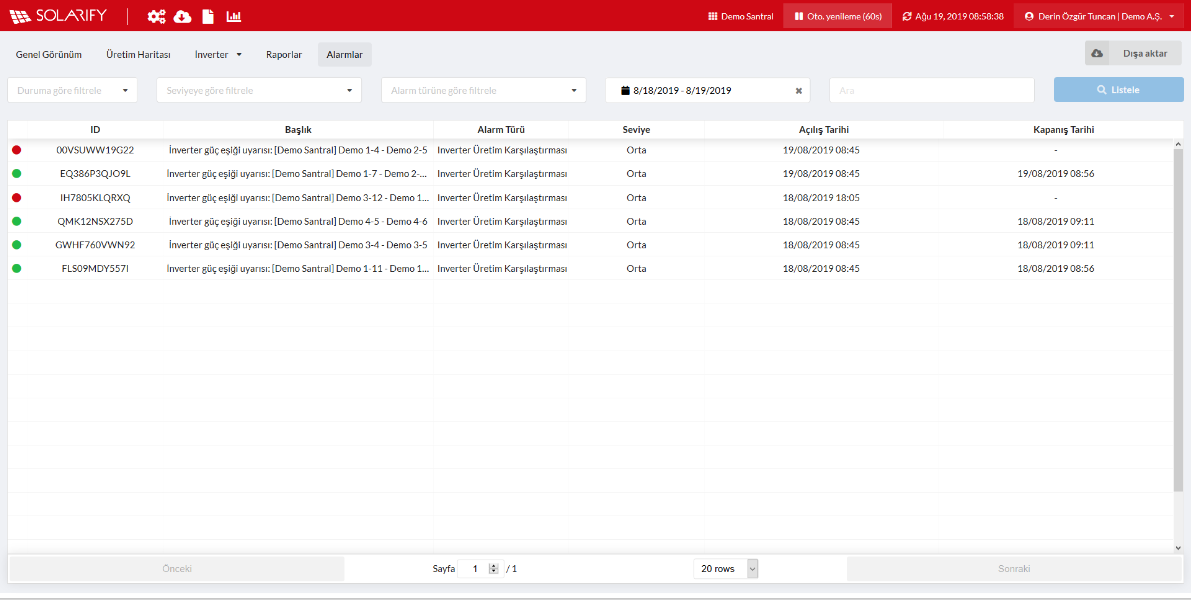 Updates
NEW FEATURES
"Production & Communication" warning has been added to monitor production downtime and communication breaks at String, SCB and Inverter level. We can now set these alarms automatically during alarm configuration.
Search feature has been added to switch between switchboards screen.
Solarify Data Logger is now compatible with KACO, ABB, WSTECH, DELTA and SMA inverters.
IMPROVEMENTS
We needed port forwarding during the installation of Solarify Data Logger, this need was eliminated with new improvements.
Fixed the performance issue after 25+ exchanges on the overview page.
Fixed the non-calculation of the term that occurs when "0" is displayed during division in terms.
Improvements have been made to increase the speed of device, data logger, subfield and powerhouse wiping operations. You can now delete and join devices in seconds.
More Realistic Performance Ratio!
In our main update, we added the panel temperature factor to the performance ratio calculations. Thanks to the temperature corrected performance ratio, more realistic rate can be seen from the overview screen.

Updates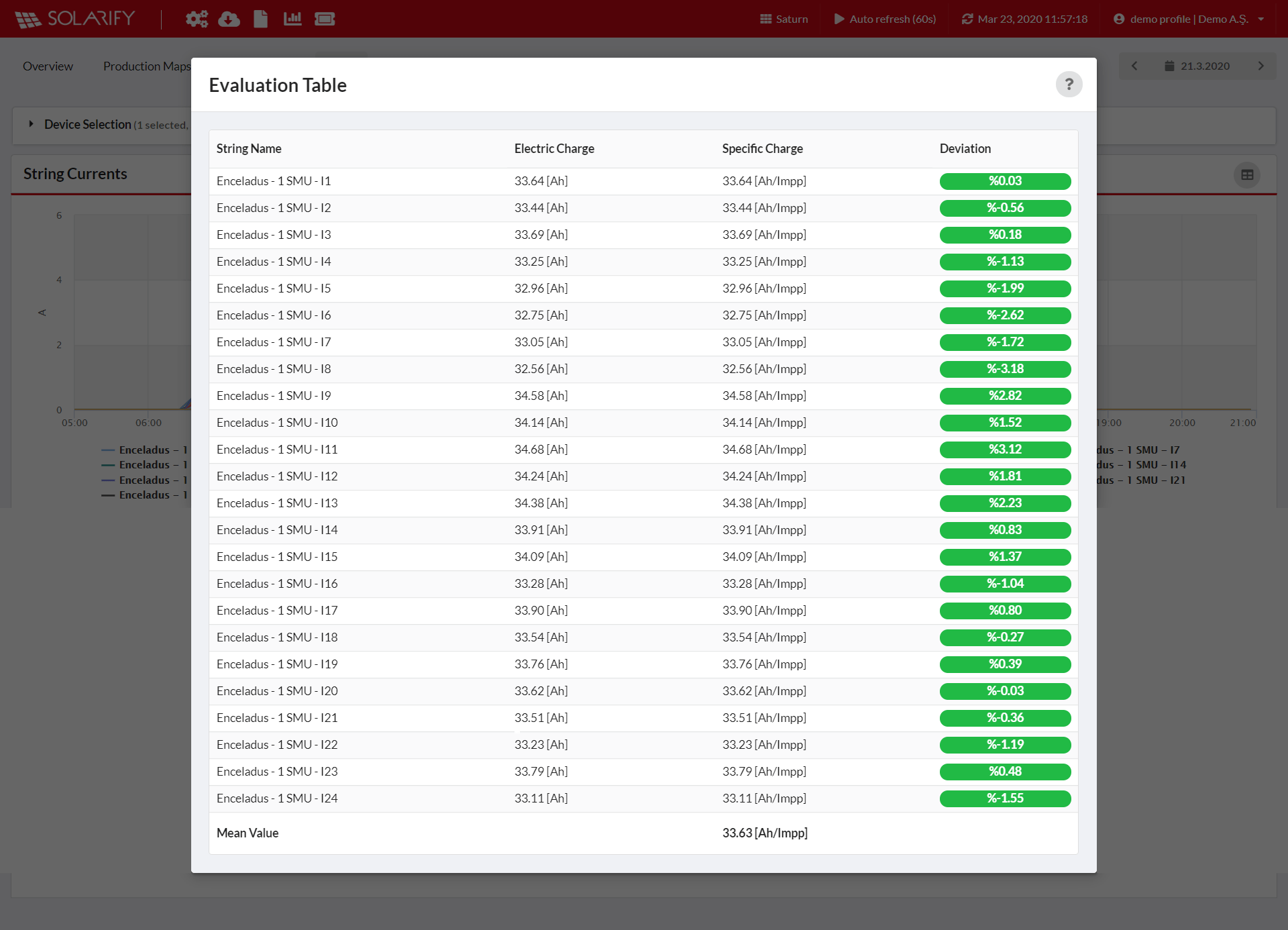 NEW FEATURES
With the evaluation table, we created in the string screen, the current that produced in the strings, and the current at the maximum power point (Ah/Impp) can be seen with deviation rates.
Now, the weather data of the region where the solar power plant (SPP) is located can be observed on the overview screen.
IMPROVEMENTS
Tickets are now completely under the control of admin and manager accounts, and users other than these two accounts cannot evaluate, close, or delete tickets.
The technician account, which can only see the tickets opened to itself, can now see all the tickets in the solar power plant where it is registered.
The telegram application that we use to facilitate operation management in solar power plants (SPP) can now be installed separately for each power plant, while only one can be installed on behalf of the company.
Support Page Enabled!
In our main update, we have added support page to our system! Now, if you have any support requests or problems, you can quickly notify us via Solarify. The requests you create remain on this page in a list. In this way, you will be able to track your backward requests and results from here.

Updates

NEW FEATURES
Spare Part page enabled. Now you can keep the devices (inverter, SCB, PV panel, radiation sensor, etc.) you keep as spare in the solar power plants and their numbers on Solarify.
IMPROVEMENTS
Now, admin and manager accounts can change the problem start time of tickets opened by the technician account.
Performance ratio, irradiance and availability values are shown with '-' in the overview screen of power plants without radiation sensors and pyranometers.
User Manual Page Enabled!
In our 12. main update, we have added a user manual page to our system! You can now access the features you are curious about while using Solarify.

You can access the user manual with the documentation button from the top right corner where your name is written.

You can also access the same page by clicking the documentation button without logging into the system from the solarify.io
2nd Version of Smart Reporting is Enabled!
In our 13. main update, we have launched the 2nd version of our smart report system that facilitates asset management!
These reports will be transmitted monthly and automatically via e-mail to the people you designate in the report settings but your solar power plant must have an irradiation sensor for the report to occur.
Updates
NEW FEATURES
User Manual for Mobile Application Enabled!
We added a user manual for mobile applications to our system! You can now access the features you are curious about while using the mobile application from the documents section.
All Reports In One Tab!
In our 14th main update, we've made changes to Solarify for the smart reporting v2 we've launched. We added the reports tab to the station detail. Through this tab, you will be able to see all your reports by filtering in list format.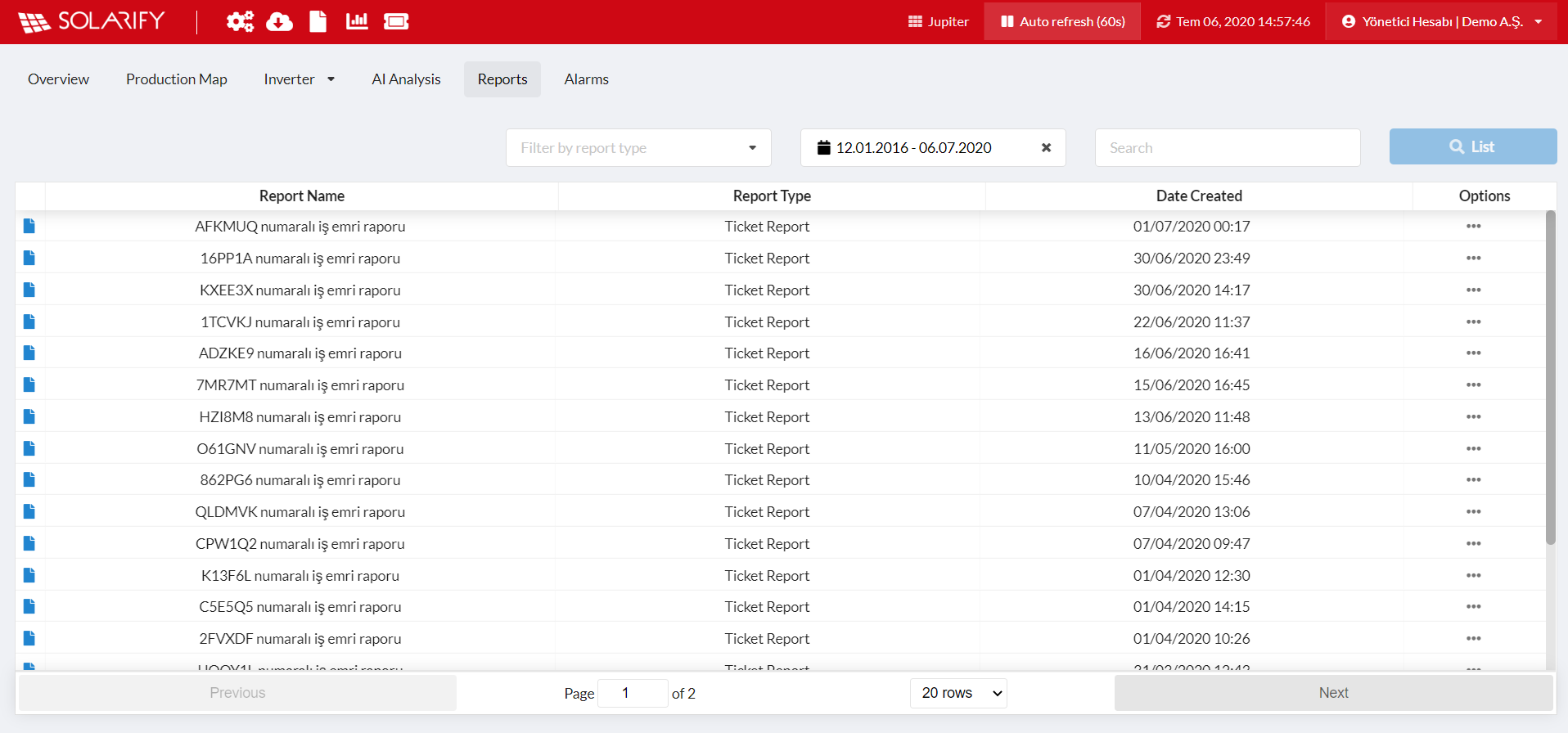 Updates
NEW FEATURES
We have collected all the settings on one page. Now, you can choose who receives monthly reports, ticket reports, and ticket telegram notifications from the station settings.
BUGFIXES
When the weekly, monthly, and yearly periods were selected in the graphs created from the analysis page, wrong data could occur. This issue has been fixed. Now, the correct data are displayed at each time period.
For more information: info@loggma.com.tr