Dataloggers
It is the page where dataloggers are added, viewed and adjusted.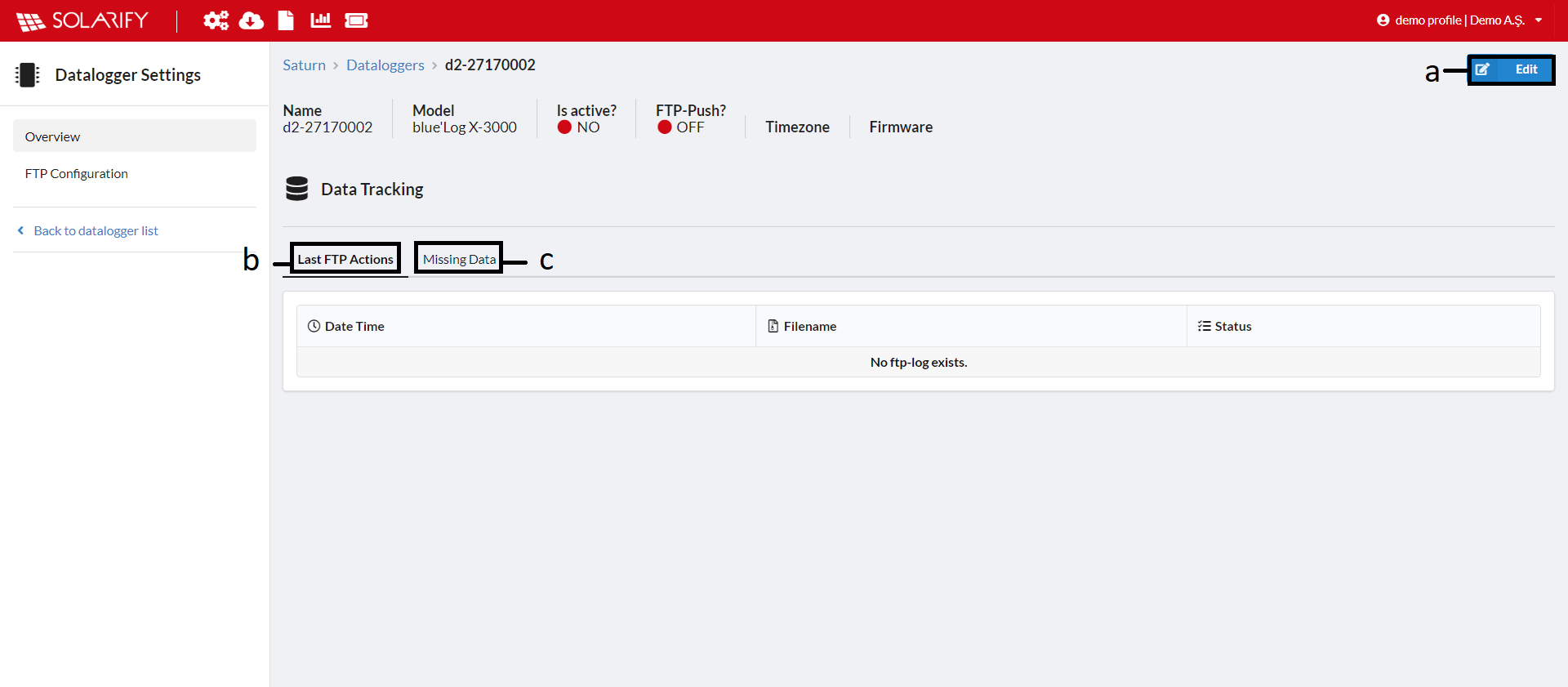 a) Add Datalogger
Button used to add datalogger. When you click the button, the Add Datalogger page will appear on the screen. After filling in the information below, when you click the Add button, the datalogger is added.
Note: No data can be received from the datalogger if the following information other than name is entered incorrectly.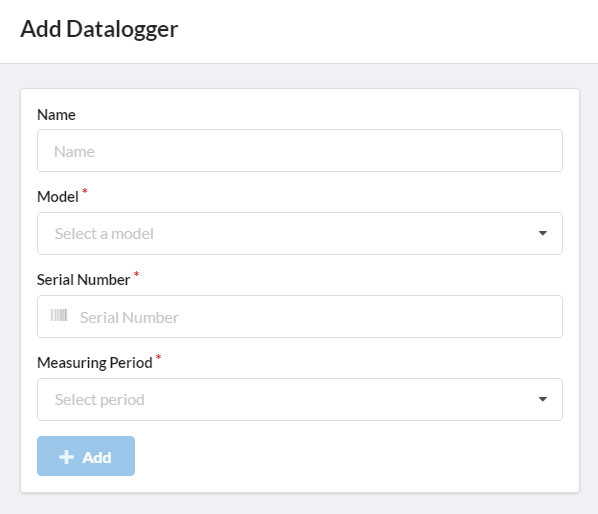 - The Measurement Period is a period of time to show how often your datalogger records the measurements. Our predefined list has 5min, 10min, 15min, 30min and 60min options.
Note: Graphs and exports are determined by the measurement period, there cannot be dataloggers with different measurement periods in the same station.

Pressing the button takes you to the Datalogger Settings.
Datalogger Settings
Overview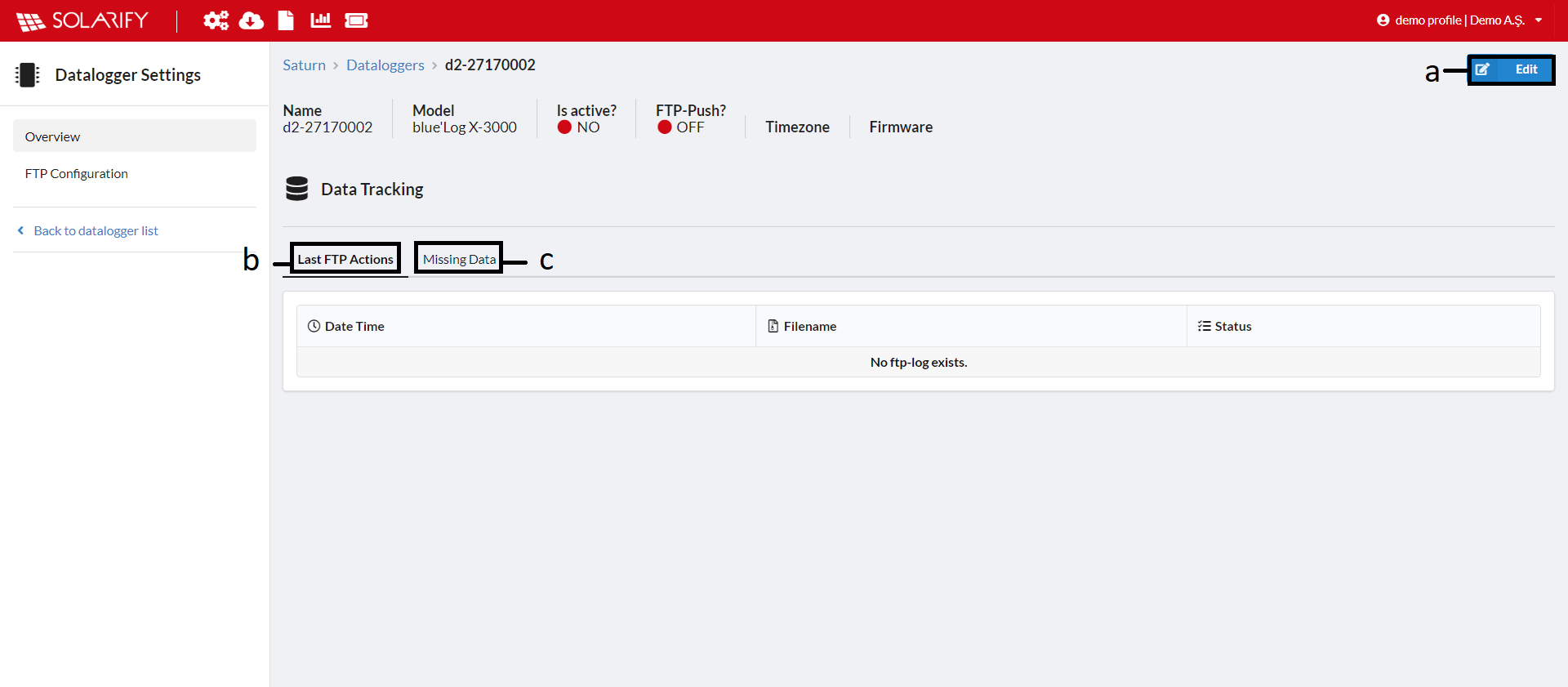 a) Edit
Button used to edit the datalogger. Clicking the button will bring up the Datalogger editing page. After completing the information below, clicking the save button will update the datalogger.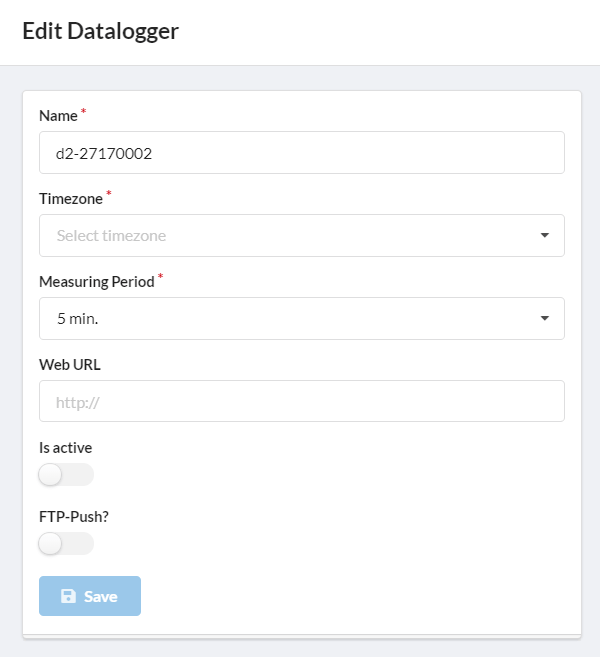 Web URL: If the datalogger has a web interface that we can access remotely, its address must be entered.
Is active: If it is active, it starts to save the data from the datalogger to the system. If it is not active, it collects incoming data but does not save it to the system.
FTP-Push: When FTP push information is entered, it starts and stops sending incoming data to the desired FTP address.
b) Last FTP Action
Keeps information about the latest FTP action. Success, Fail, Skip or Exist is specified in the status section when the files received via FTP are processed by Solarify and whether they are successfully saved.
Success; the fact that the data in the file has been successfully added to the system
Fail; inability to process incoming data and inability to add to the system
Skip; invalid validation of file validation
Exist; if the incoming file already exists in the system
c) Missing Data
It is the page where the data that cannot be saved due to unknown reasons are listed while it should be registered in Solarify according to the measurement period.
Lists the missing data of the selected month in the date button in the upper right.
FTP Configuration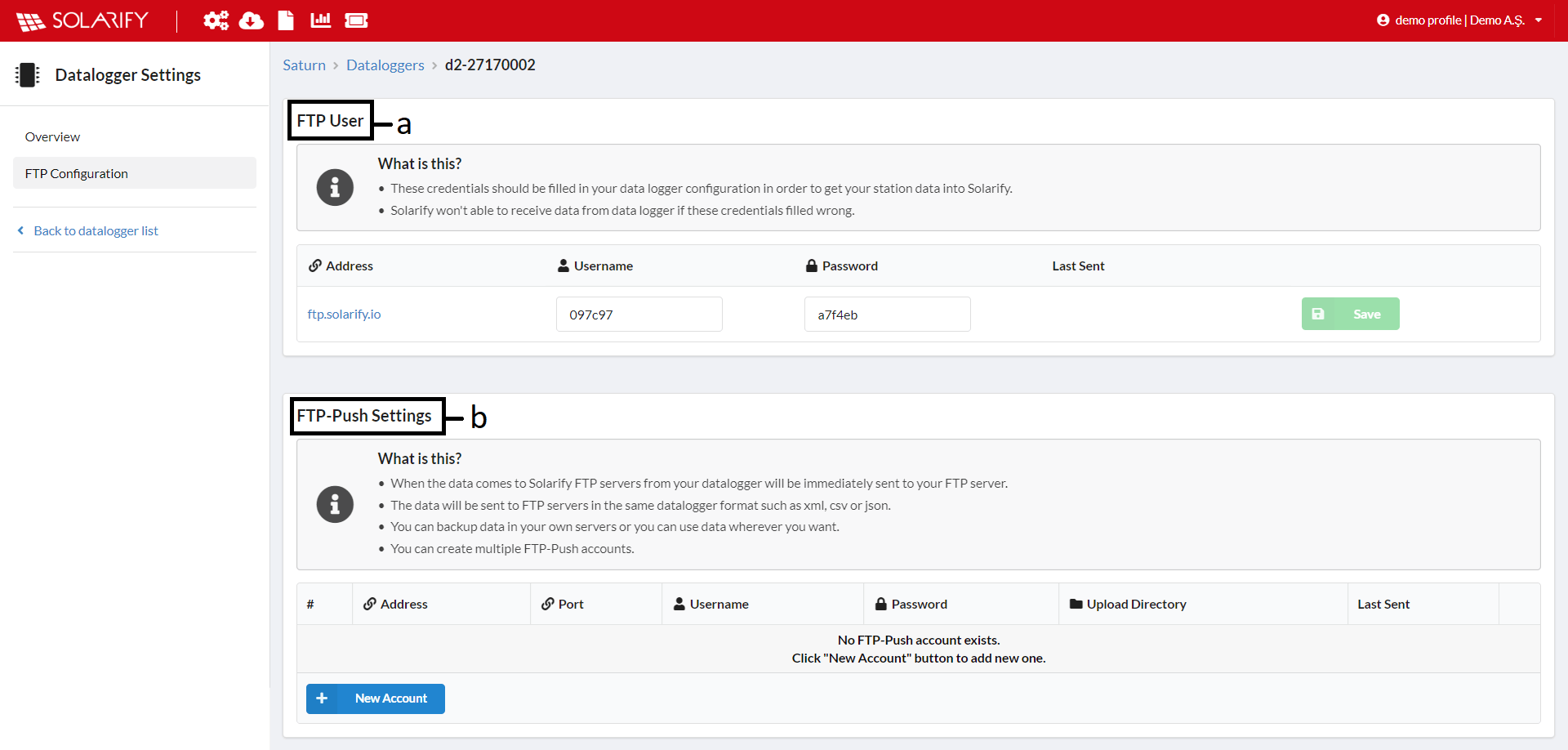 a) FTP User
Information about FTP users. After adding the datalogger to the system, the username and password are created automatically. In order for Solarify to receive data from the datalogger, this information must be entered correctly in your datalogger's interface.
b) FTP-Push Settings
The FTP Push feature enables automatic copying of data files saved in Solarify to a user-specified FTP server using FTP.

saves the FTP account.

deletes the FTP account.